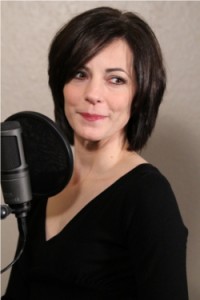 Are you currently working on a commercial project? Take it from good to great — use Kate! (wink, wink)
Kate has been featured in numerous commercial voice over projects, including playing the voice of "Margie" in a Sono Bello radio ad. Have a listen on Kate's Voice Over Audio Samples page.
Commercial Voice Over Work is a Broad Term…
This type of work certainly does apply to actual commercials; but commercial voice over work is used much more generously to include radio spots, cable network advertisements, even online ads, "walk-on Videos" and much more. This may also include telephone or narration scripts, etc. Kate covers narrative voice over work here.
Considering Kate for Commercial Voice Over Work?
Kate is both versatile and hard working. This comes through with shining colors in her commercial voice over work in a number ways:
Speed of delivery — Kate gets the work in quickly and above expectations;
Using different "voices" — Kate is happy to try multiple shades of character to get the right fit for your commercial voice over work;
Kate will work the copy over and over absolutely tirelessly until your commercial voice over work

is exactly the way you want it!
Next Steps
Check out Kate's voice over audio samples
Learn more about Kate
If you're ready, you can contact Kate about your commercial voice over work.

Commercial voice over work could also include a number of corporate projects, such as recording a new phone tree or greeting for callers; creating training videos for sales departments or compliance videos for Human Resources. It could include a stand-alone video kiosk demonstration of your products. And any number of other applications of commercial voice over work.
If we haven't mentioned your project here, the answer is simple: If it needs a voice, Kate can do it!
Check out Wikipedia's entry on Voice Acting to learn more about Commercial Voice Over Work.